[Portuguese Council Presidency event] Together with LGBTI persons: paces, challenges and dialogues

[Portuguese Council Presidency event] Together with LGBTI persons: paces, challenges and dialogues
May 12 @ 8:50 am

-

1:00 pm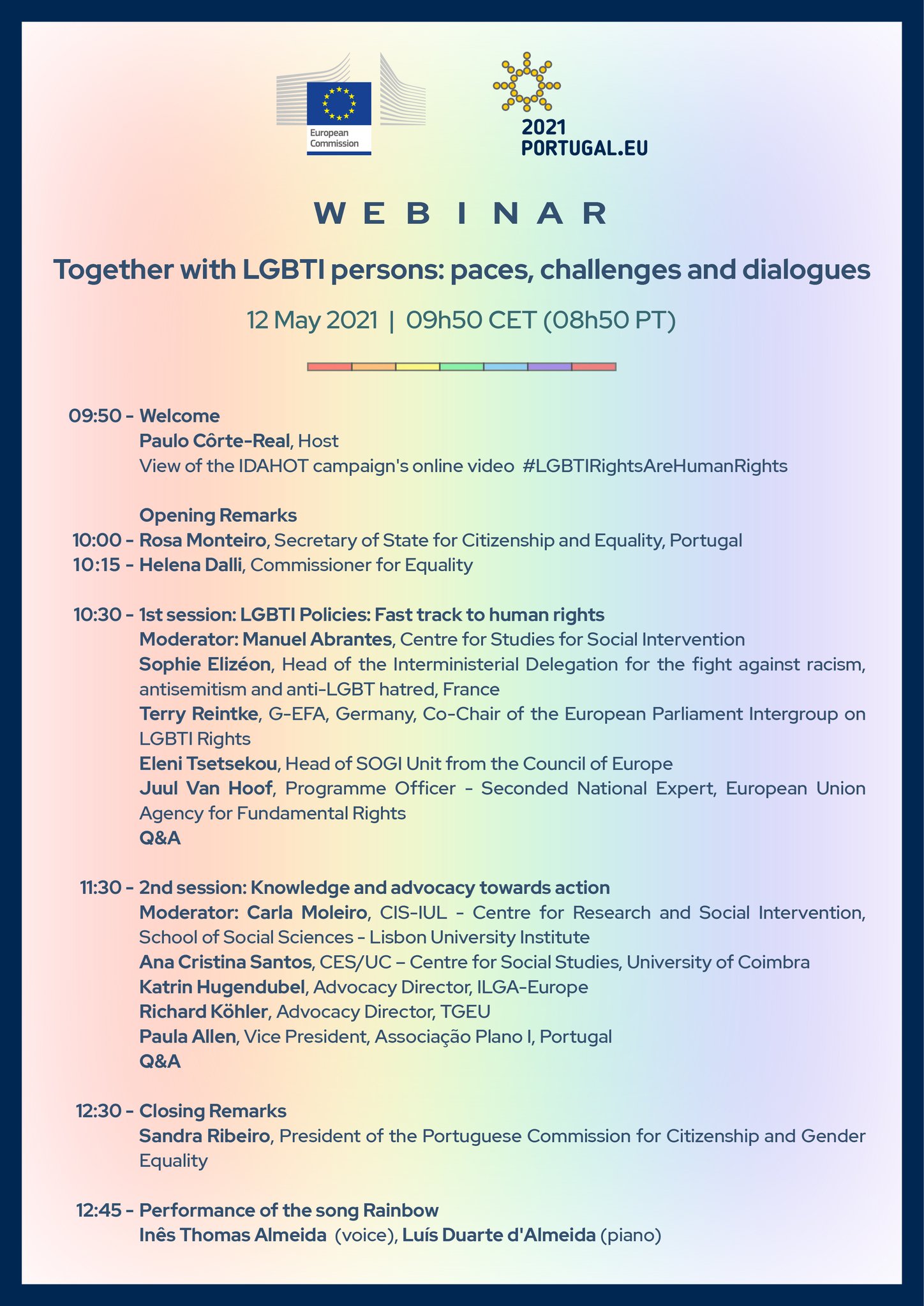 The Portuguese Presidency of the Council of the European Union will be organising the online event "Together with LGBTI persons: paces, challenges and dialogues" on 12 May.
This webinar aims to create an opportunity for debate and focus on the needs and the rights of LGBTI persons, revealing the importance of International Day Against Homophobia, Transphobia and Biphobia (IDAHOT) and reaffirming the commitment to combating discrimination based on sexual orientation, gender identity and expression, and sex characteristics.
Speakers will include:
Rosa Monteiro, Portuguese Secretary of State for Equality and Citizenship
Helena Dalli, European Commissioner for Equality
Sophie Elizéon, Head of the Interministerial delegation for the fight against racism, anti-semitism and anti-LGBT hatred in France
Terry Reintke, Co-chair of the LGBTI Intergroup
Eleni Tsetsekou, Head of the SOGI Unit at the Council of Europe
Juul van Hoof, Program Officer – Seconded National Expert at FRA
Ana Cristina Santos, Centre for Social Studies, University of Coimbra
Katrin Hugendubel, Advocacy Director at ILGA-Europe
Richard Köhler, Advocacy Director at TGEU
Paula Allen, Vice-President at Associação Plano I, Portugal
Sandra Ribeiro, President of the Portuguese Commission for Citizenship and Gender Equality
The event will be live-streamed on the social media accounts of the Portuguese Commission for Citizenship and Gender Equality.