Juncker I Commission – Strong promise of a European Union respectful of LGBTI rights
Today, the European Parliament by majority gave its consent to the Juncker I Commission. Over the last weeks, the Parliament has conducted hearings with the candidate Commissioners, in which their stance on LGBTI rights was a recurring topic.
Future Commission Vice Presidents Frans Timmermans (Rule of Law, Fundamental Rights) and Federica Mogherini (Foreign Affairs)
Future Com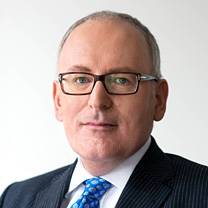 mission Vice-President in charge of the Rule of Law and Fundamental Rights Frans Timmermans (the Netherlands) and future Vice-President/High Representative of the Union in Foreign Affairs Federica Mogherini (Italy) spoke out strongly in favour of LGBTI rights.
Timmermans committed to defend fundamental rights, emphasising the need for legal action to protect minorities. "There is so much diversity in Europe, we will always find someone to blame: either Jews or Muslims or Christians or gays, or women, or Gypsies – Roma, Sinti . . . The triumph of European civilisation is to curtail that reaction and to create a legal framework within which we control this."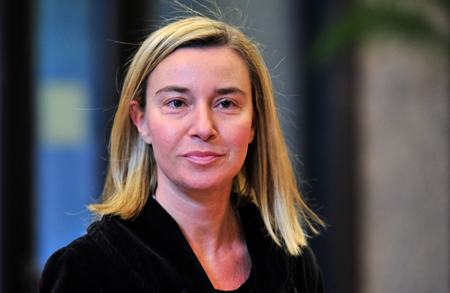 Mogherini, who as Catherine Ashton's successor will be in charge of the EU's Foreign Policy, assured that furthering the rights of ethnic and sexual minorities "is part of [her] DNA."
"I do it because I believe in it, not because it is a clause or a must."
Ulrike Lunacek MEP, Co-President of the LGBTI Intergroup-designate, reacted: "The two candidate Vice-Presidents spoke clearly in favour of the rights of minorities, particularly LGBTI people."
"Timmermans stated that he would not shy away from action on fundamental rights within the EU, whereas Mogherini gave a clear commitment to continue defending the rights of LGBTI people externally. I am very glad to hear such strong commitments, and I am sure they will be a great asset to the global movement on LGBTI rights."
Promise of future action on LGBTI rights
Earlier, the Parliament already heard Commission candidates Jourová (Justice, Czech Republic) who in her written answer addressed the need for an action plan on LGBTI rights, Mr Mimica (Development) who emphasised the need to enhance human rights in relation to third countries, and Commission Candidate Andiukaitis (Health), who emphasised that in the field of health care, discrimination cannot be permitted.
Daniele Viotti MEP, Co-President of the LGBTI Intergroup-designate, reacted: "I am very glad that without reservation, future Commissioners Candidates on all relevant portfolios have given their outspoken support for LGBTI equality and fundamental rights."
"With this new Commission we have a strong promise of future action on the rights of LGBTI people. I look forward to seeing them in action and cooperating with them to create LGBTI inclusive policies."