Vice President European Commission demands mutual recognition same-sex marriages
In an interview with Politico, published on Monday, Vice President of the European Commission Frans Timmermans, indicated he is committed to make sure all EU Member States recognise same-sex marriages conducted abroad.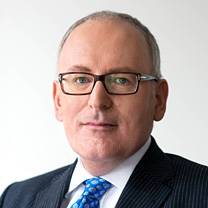 He stressed that "[e]ven if you don't want to have same-sex marriage in your country, [you should] at least have the decency to accept that other countries do have it and recognize that marriage when people move to your country who are married."
This confirms statements he made in a speech one week before, when he called it a disgrace that same-sex married couples moving to another country "run into all sorts of idiotic problems" opposite-sex couples would not face in the same situation.
These problems could include loss of pension rights, inheritance, next-of-kin rights or child custody rights.
Ulrike Lunacek MEP, Co-President of the LGBTI Intergroup reacted: "I strongly applaud these words by Vice President Timmermans, which confirm that bonds of love and their legal recognition, no matter whether conducted between same-sex or opposite-sex couples, should be treated equally."
"I look forward to working with Mr Timmermans to ensure that this will be reality sooner rather than later."
Daniele Viotti MEP, Co-President of the LGBTI Intergroup, added: "Why would two married women and their children be recognised as a family in one EU Member state, and as two single women with orphans in another? This is what happens in Italy, as I underlined in the conference 'Europe: Families without borders!' and in the video 'If you are married in Europe you are married in Italy, too.'"
"Indeed this does not make sense and may create dangerous situations. I am very glad to see that Vice President Timmermans is committed to ensure that the effects of same-sex marriages are recognised EU-wide."
Ian Duncan MEP, Vice-President of the Intergroup on LGBTI Rights, concluded: "I welcome the words of Vice President Timmermans. Same sex couples should not have to face barriers in other European countries that are not faced by heterosexual couples."
"I have written to Mr Timmermans to ask what action he will be taking to follow up on his pledge"
Read more