MEPs write to President von der Leyen on Coman & Hamilton's 4 year non-implementation anniversary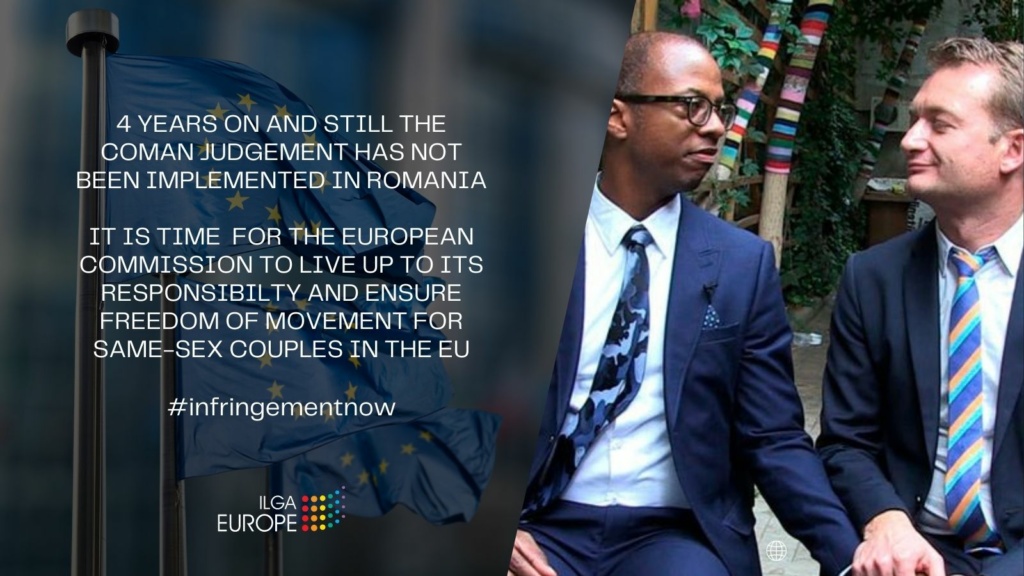 Ursula von der Leyen, European Commission President
Cc: Věra Jourová, Commission Vice-President, Values and Transparency
Cc: Didier Reynders, Commissioner for Justice
Cc: Helena Dalli, Commissioner for Equality
Brussels, 7 June 2022
Subject: (Non-)Implementation of the Coman & Hamilton case 4 years after the CJEU decision
Dear Commission President, Ursula von der Leyen,
This past Sunday marked the 4-year anniversary of the CJEU's Coman & Hamilton landmark decision.[1] On 5 June 2018, the CJEU ruled that the term spouse includes same-sex spouses under EU freedom of movement law. This decision provided a much-awaited clarification of EU free movement law and its application to rainbow families, which enshrined the need to respect their freedom of movement as much as for any other EU citizen. Coman & Hamilton remains a landmark decision – if anything, for the lack of its proper implementation to this day by the Romanian authorities.
Four years on, Clai Hamilton, spouse of Romanian citizen Adrian Coman, has not yet been granted residency in Romania. The couple has not only had no redress after ten years of strategic litigation efforts, but additionally had to resort to the European Court of Human Rights in pursuit of effective redress. In the meanwhile, the European Commission has remained blatantly silent on any possibility for infringement.
The problem
The Romanian Constitutional Court ruling stipulated that the ban to recognise same-sex marriage conducted abroad is constitutional only insofar as it does not preclude married same sex couples from exercising their freedom of movement. As such, these couples should, even if not given the opportunity to transcribe their marriage certificates, be allowed to obtain residency permits. This ruling, coupled with the CJEU judgment of 5 June 2018 is still in contradiction with the existing legislation on freedom of movement in Romania.
Namely, the GEO (Government Emergency Ordinance) 102/2005 on freedom of movement on the territory of Romania of citizens of EU, EEA and Swiss Confederation Member States excludes the Romanian citizens in article 1. b. The GEO (Government Emergency Ordinance) 194/2002 imposes additional conditions than those provided in Directive 2004/38/EC (the free movement Directive). In particular, based on GEO 194/2002, same-sex spouses are still not treated as spouses four years after the Coman & Hamilton judgment – their marriage certificate is not taken into account (based on the Civil Code provisions as shown below); they are treated as other family members than spouses and they are required evidence of residence in another EU Member State for both of them together. The fact is that the Romanian Civil Code not only defines marriage as the union of a man and a woman, but also stipulates that "marriage between persons of the same sex shall be prohibited" and, even more specifically, "marriages between persons of the same sex entered into or contracted abroad by Romanian citizens or by foreigners shall not be recognised in Romania". As long as these stipulations remain in the Romanian Civil Code, the implementation of Coman & Hamilton is impossible.
The Commission's (in)action
In the LGBTIQ Equality Strategy,[2] the Commission committed to "continue to ensure the correct application of free movement law, including to address specific difficulties preventing LGBTIQ people and their families from enjoying their rights." It goes on to mention the Coman & Hamilton case, mentioning that it will take legal action if necessary.
Several actions have since taken place since:
An official complaint (CHAP(2019)3147) was submitted by ACCEPT and ILGA-Europe to the Commission regarding a similar case to Coman & Hamilton's. One partner in that case was threatened with deportation. To this day, the Commission provided no official reply to this complaint.
In a September 2021 resolution, the Parliament called on the Commission[3] to start infringement procedures against Romania over its ongoing failure to comply with the judgement. The Commission took no action to follow Parliament's call.
On November 2021, a parliamentary Written Question co-signed by 21 MEPs enquired the EC about the status of play on opening infringement procedures.[4] The Commission's answer is non-informative and shows no willingness to open infringement procedures.
We are aware of the Commission's plan to issue guidelines on free movement – lest we are ill-informed, these will remain, as the name indicates, guidelines, i.e. not enforcement tools. In order to ensure that all EU citizens can effectively enjoy their right to freedom of movement,the Commission needs to use its powers as Guardian of the Treaties to level legal action if need be and to protect the credibility of the Court.
In light of the former:
Are the Commission's commitments to protect freedom of movement for rainbow families void of accountability or will the Commission initiate an infringement procedure over Romania's failure to implement judgement C-673/16?
For future reference, what is the adequate duration of a Member State's possibility to violate EU law before this violation becomes problematic?
What strategy is the Commission pursuing to ensure that freedom of movement is effectively respected and protected in the EU, e.g. through appropriate legal action?
Yours sincerely,
Marc ANGEL, Co-Chair, LGBTI Intergroup (S&D, Luxembourg)
Terry REINTKE, Co-Chair, LGBTI Intergroup (Greens-EFA Vice-President, Germany)
Fabio Massimo CASTALDO, Vice-President, LGBTI Intergroup (Non-attached, Italy)
Pierre KARLESKIND, Vice-President, LGBTI Intergroup (Renew Europe, France)
Malin BJÖRK, Vice-President, LGBTI Intergroup (The Left, Sweden)
Maria WALSH, Vice-President, LGBTI Intergroup (EPP, Ireland)
Michal ŠIMEČKA (Slovakia), EP Vice-President
Malik AZMANI (Netherlands), Renew Europe First Vice-President
Frédérique RIES (Belgium), Renew Europe Vice-President
Alice KUHNKE (Sweden), Greens/European Free Alliance Vice-President
Ernest URTASUN (Spain) Greens/European Free Alliance Vice-President
Marisa MATIAS (Portugal), The Left Vice-President
Juan Fernando LÓPEZ AGUILAR, LIBE Committee Chair (S&D, Spain)
Andreas SCHIEDER (S&D, Austria)
Bart GROOTHUIS (Renew Europe, Netherlands)
Caroline NAGTEGAAL (Renew Europe, Netherlands)
Catharina RINZEMA (Renew Europe, Netherlands)
Cyrus ENGERER (S&D, Malta)
Daniel FREUND (Greens-EFA, Germany)
Diana RIBA I GINER (Greens-EFA, Spain)
Eleonora EVI (Greens-EFA, Italy)
Erik MARQUARDT (Greens-EFA, Germany)
Evin INCIR (S&D, Sweden)
Giuliano PISAPIA (S&D, Italy)
Gwendoline DELBOS-CORFIELD (Greens-EFA, France)
Irène TOLLERET (Renew Europe, France)
Jan HUITEMA (Netherlands, Renew Europe)
José GUSMÃO (The Left, Portugal)
Karen MELCHIOR (Renew Europe, Denmark)
Karin KARLSBRO (Renew Europe, Sweden)
Kim VAN SPARRENTAK (Greens-EFA, Netherlands)
Marianne VIND (S&D, Denmark)
Martin HOJSÍK (Renew Europe, Slovakia)
Monika VANA (Greens-EFA, Austria)
Morten PETERSEN (Renew Europe, Denmark)
Rasmus ANDRESEN (Greens-EFA, Germany)
Robert BIEDROŃ (S&D, Poland)
Rosa D'AMATO (Greens-EFA, Italy)
Sara MATTHIEU (Greens-EFA, Belgium)
Saskia BRICMONT (Greens-EFA, Belgium)
Sirpa PIETIKÄINEN (EPP, Finland)
Sophie IN'T VELD (Renew Europe, Netherlands)
Sylwia SPUREK (Greens-EFA, Poland)
Thijs REUTEN (S&D, Netherlands)
Tilly METZ (Greens-EFA, Luxembourg)
---
[1] CJEU, Case-673/16, Relu Adrian Coman and Others v Inspectoratul General pentru Imigrări and Ministerul Afacerilor Interne (Coman and Others), accessible at https://eur-lex.europa.eu/legal-content/EN/TXT/?uri=CELEX%3A62016CJ0673.
[2] European Commission (2020), "Union of Equality: LGBTIQ Equality Strategy 2020-2025", published on 12 November 2020, accessible at https://ec.europa.eu/info/sites/default/files/lgbtiq_strategy_2020-2025_en.pdf.
[3] European Parliament resolution of 14 September 2021 on LGBTIQ rights in the EU, ¶10, accessible at https://www.europarl.europa.eu/doceo/document/TA-9-2021-0366_EN.html.
[4] Parliamentary Written Question, "Romania's failure to implement the Coman and Hamilton judgment", accessible at https://www.europarl.europa.eu/doceo/document/E-9-2021-005164_EN.html.